LugMOquilla was set up after avid hiker, Tommy Stewart, lost his battle with Cancer on the 2nd of November 2012. Tommy was a great lover of the outdoors and told great stories of hiking in Ireland.
After seeing what he went through, Tommy's friend and relative, Paul Clark, and a few others decided to do something to help other people battling cancer in Ireland. So with it being Movember/november and a love of the outdoors, The LugMOquilla Challenge was born.
Their first hike was the highest mountain in Leinster Lugnaquilla (that's where the Challenge got its name) and was completed by a crew of 13 friends.
Fast forward four years later, and they have conquered three more mountains with a crew of over 70, and have now raised over €20,000 for us - pretty impressive. They couldn't of done it without the sponsorship from Beacon Hospital, and Skellig Engineering Ltd.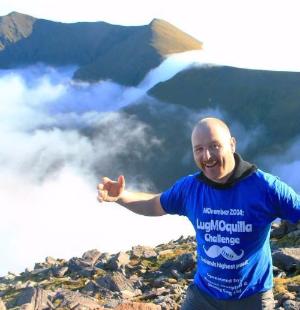 2014's Challenge over Carrauntoohil, Co. Kerry
In 2014, they conquered Carrauntoohil, Ireland's highest peak. So how to top that? The answer was to tackle two mountains in one day for last year's Challenge: Maulin and Djouce in Co. Wicklow. This year takes them back to the beautiful Wicklow mountains, and back up and over Lugnoquilla. You can message them on their
Facebook page
for more information and to get involved. Or help them raise funds for men's health by donating to their
Mo Space
.
This year's Challenge is kicking off early this Saturday (26th November). Forecast looks chilly enough. Nothing a cup of tea and toasted sandwich afterwards won't cure. Who knows, maybe even a pint...